So, yesterday I outlined my plan for the first 2 days, but after some serious consideration this morning and a lot of planning I've already tweaked my original plans. I stated in my previous post that my "detox" was going to last 2 days. Well, 2 days isn't long enough to accomplish anything, so I am extending my detox to 4 days. It makes sense in a way, being that I'm starting this plan on a Thursday which gives me a fresh start to start retraining my body on Monday.
Before I go any further, I have to get this out of the way. You've all probably heard it before, but to protect myself it must be said. I am not a weight loss professional. The experiment I will be conducting the next 60 days is on my own will. Before starting any form of weight loss program, seek advice from a medical professional. I am not guarenteeing any specific type results accompanied with the program that I am creating for myself. That is the point of an experiment, I will see if the program I create works.
Ok, now to the good stuff. I think I have the whole 60 day plan just about done, but I'm not going to post everything here. I will just do a quick outline of what the next 60 days will entail, and each day I will update my actual food intake/ exercise regimen and all of the feelings associated with it.
The plan will consist of a 4 day detox. The dextox will consist of a fruit/veg/water diet ONLY! I will not be consuming ANY protein (meat, dairy, etc) or carbs (breads, pastas, etc). The idea behind the detox is a starting process of flushing my body of "the bad stuff" and giving it a taste of "good stuff".
After the detox, I will very slowly start adding protein and carbs back into my diet. It is not safe to go an extended period of time without proper sources of protein or carbs, but choosing the right protein and carbs will be cruicial to my success. Remember, my whole point to this experiment isn't only to lose weight, but also 'retrain' my body to live and thrive on healthy foods so that the weight loss will be permanent.
This morning, I purchased a calorie counter/pedometer. This is going to be crucial in measuring how many calories I'm burning in a day. In order to lose 1lb of body fat, I have to burn off 3500 calories PLUS whatever calories I consume. I will more than likely notice a decrease in weight pretty quickly in the beginning, being that I will be consuming very few calories - but that will steady out once I get back up to the 1200-1400 calories I will be consuming once I'm in my "full throttle healthy" mode.
As far as exercise goes, I will be working out with my Wii Personal Trainer EVERY day!! I'm going to shoot for 30 minutes a day for the first week, and then slowly increase. By the end of the 60 days, my goal is to be up to 90 minutes a day. Even if I can't work out for 90 minutes all at once, 3 30 minute sessions will be just as affective. I will also be including other activities that are not planned, but will be in addition to the personal trainer workouts.
Ok, that's the program in a nutshell. So, let's get to my day one starting info. This morning, before consuming anything, I weighed myself. My starting weight is 249lbs. I'm not proud of that, but I'm not going to dwell on it - that's what I weigh from day one. I had a banana for breakfast and I did have a cup of coffee (but baby steps are key). I have drank a bottle of water, and now on my second bottle. Here in a few minutes I will be drinking a glass of organic, 100% pomegranete and blueberry cocktail. This is PURE juice, and NOT from concentrate. For dinner tonite, I will be sticking to my small salad with lemon juice dressing. I say dressing, but it's pure lemon juice - and just a drizzle. Before eating my salad, I will drink another bottle of water. Approximately 7pm tonite, I will do my 30 minute workout and follow that with a 6oz glass of oraganic apple juice (again, pure juice, not concentrate). Before bed tonight, I will drink a cup of lemon tea with some added lemon.
Here is what I look like on day 1. I will admit, I'm deeply embarressed by these photos - but you have to have a "before" to compare to the "after". (Excuse my bathroom mirror shots, but it was the best I could come up with)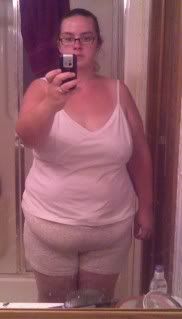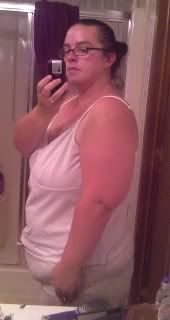 As of right now, 2pm, I feel great. I really feel motivated. I don't feel hungry, despite my lack of food - but I think that the water is really helping out with that. It's very early in the game, so I'm sure the withdrawls and stuff will start soon - but I'm staying positive, thinking positive, and geared up for serious action.
Till later ;)