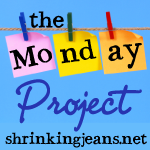 This week's project, brought to you by the awesome people of the
Sisterhood of the Shrinking Jeans
, is to make a list of short term and long term goals. That would be easy - if that's all I had to do. I have to make the list but I
ALSO
have to create a list of rewards for accomplishing the goals
AND
put deadlines on the goals. **Insert nervous giggle**
When I first read the project information, I thought "no big deal". Then I started working on
The List
. Writing a list of goals, like I said, is easy. It's basically a wish list.
I wish to be thin one day
I wish to run a 5K or 1/2 marathon one day.
I wish to be better at yoga one day.
Start adding rewards and deadlines - and your goal list has become an agenda. A to-do list. A meeting planner with your future, and there's plenty to be done before the meeting.
I decided to break my agenda,
yeah that's what I'm going to call it
, up into two sections:
Goals I want to achieve in 2011
&
Goals I want to achieve in the next 5 years
(i.e. short term goals/ long term goals).
Today, I'm going to share my 2011 goals and tomorrow I'll share the 5 year goals. Ready? OK:
Let's start with the big goals, and then I'll talk about the steps I'm going to take to achieve them
.
Overall Weight loss goal:
To weigh 145lbs
Overall Exercise goal:
To run a full 5K - without any walking (preferably in less than 30 minutes, but that's extra)
That's it - that's what I want to achieve in 2011. Sounds pretty simple, right? Yeah, right. Those are BIG goals...I have to have smaller goals and deadlines (termed action steps by
Miss Kerri O
) to get there. So, here's my timeline and action steps to reaching my goals:
Weight loss timeline:
Weigh 199lbs by March 15th
(the step into Onederland by the final weigh-in of the Biggest Loser competition)- that means losing 22.4lbs or approx. 2.5lbs a week - gonna be tough
Weigh 175lbs by July 4th
(family celebrations, bathing suit...you know) - that means losing 46.4lbs in 25 weeks or about 1.87lbs a week
Weigh 145lbs by October 1st
(goal to lose 80lbs in 10 months) - that means losing 76.4lbs in 37 weeks or 2.11lbs a week
Yes, I know, they are pretty hardcore. Losing 2lbs a week is a nice idea - not so sure if it's doable...but I'm going to work my @ss off trying!!
That's where the exercise timeline comes in - the exercise is going to be a big factor into helping me lose the weight.
Exercise Timeline:
Complete Couch to 5K training - March 13th
Complete Running Mate 5K Pace Training - April 24th
Run first 5K: April 30th (Susan G. Koman Race for the Cure)
Complete Running Mate 5K Fastest Time Training - August/ September
Run a 5K in less than 30 minutes: TBD (race in the fall...just have to find one)
OK, there's the agenda goals. I also have some other goals that I want to incorporate to help with the above goals - stuff like
Plan all of my meals each and every week
1-2 strength training work-outs each week
Try Zumba (heard so much about it, must try it)
Drink 60-80ozs water each day
I will make a list of weekly goals each and every week - and I'm keeping a goal journal. Writing them down, seeing them in black and white...it helps. It's my record of accountability.
OK - so there's the PLAN. The agenda. The blueprint to my success. Now, let's talk PAYMENT...urm, rewards.
Here's a list of rewards that I'm going to treat myself with with each milestone:
Weight Loss Rewards:
First Milestone
(Onederland): 30 minute massage (never had one..want to try it)
Reaching 190lbs:
Romantic dinner with Hubby (romantic meaning no kids)
Reaching 180lbs:
New outfit (top, bottom, and maybe shoes!)
Second Milestone
(175lbs): Mani/Pedi and new bathing suit (want to look good in the pool)
Reaching 160lbs:
Romantic weekend with Hubby (once again, meaning no kids)
Target Weight loss:
A professional photo shoot complete with full make-over and new outfit.... OH YEAH, I'm going BIG!
I really hate having pictures made of myself - because I'm fat. I want to feel BEAUTIFUL, so that's why my big kahuna reward is to have my first ever professional photography shoot....I'm already getting excited!!
Exercise rewards:
Complete Couch to 5K training:
New running outfit (running pants and shirt...maybe a jacket)
Completion of 1st 5K:
Try a hot yoga session (never done it, really want to try it)
Completion of 5K in less than 30 minutes
: 1 hour massage session (I will probably really need it) and a big celebration meal with the whole family - at one of our favorite restaurants (not caring about the calories or fat!)
H
e
y, it's a reward...don't judge!
OK, there you have it. My goals, deadlines, and rewards. It was a nerve wracking experience to get them written out...but now that I'm done, I feel empowered. I feel challenged. I feel like I am now working for something, towards something - I just have to complete the baby steps to get there.
Today, I want to know:
What's one goal that you worked really hard to reach, and how did you feel when you got there?
Be honest, do you think my goals and deadlines are a little steep?
(yes, I want your honest opinion)
Am I missing something? Should there be a goal on my list that I've missed? Maybe, one that really helped you.
Everyone have a wonderful Thursday!!
Till next time. ;)