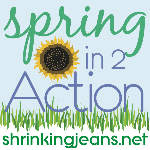 It's time once again to check in for the Spring in 2 Action Challenge. Another week is almost half over, and there's no better way to celebrate Hump Day than by sharing some numbers!!
Since last Wednesday, my mood has definitely improved. I was getting so frustrated with the numbers I was seeing on the scale each week. Then I saw some improvement over the next couple of days. Then I went to the gym and once again saw a gain. Go down next day, up after a work-out. It's a nasty cycle - but one that I'm getting accustomed to.
It seems to baffle people when I tell them I have a gain after a work-out. It did me, too. Wait, it didn't baffle me - it down right pissed me off. There's nothing more frustrating than to sweat your butt off in the gym only to see a 2 or 3lb gain on the scale the next day. Then I realized that the days that followed, the scale started making it's way down - and that made me feel better. Now, I'm doing my best to adjust to the fluctuation - and to help my team get a good number on the scale each Wednesday, I've made the executive decision to NOT work-out on Tuesday nights.
Don't think of it as a cop-out. It's not. It's one day a week that I won't be working out. Well, two this week - because Thursday I have something planned- but you know what I mean. If I get to see my progress after a day of NOT working out...then that's what I'll do.
OK, I know - enough stalling...you want to see some numbers, right? Well, then let's get to it.
Starting weight:
214.6lbs
Weight last week:
214.6lbs
Weight this week:
212.4lbs
Yep, that's right. I lost 2.2.lbs this week. Am I happy with that? Heck yeah I am.
Last week, I said that I wanted to push past the plateau of 214lbs. I've been stuck at that number for over a month - and I did NOT like it. This week, I pushed past the wall - and for that I am extremely happy.
I'm not exactly out of the woods, yet. Being 2lbs away from the plateau number still puts me at risk of seeing that number again, if I'm not careful. I don't EVER want to see that 214 on the scale again.
Tonight, I'm off to the gym. It will be my first time this week - due to Running Club on Monday afternoons, now. After the awesome work-out I had Saturday with my mom, I'm ready to do that again.
I've been pretty "Lucy Goosey" with my trips to the gym the past couple of weeks. I told myself that if I was making it out to the track a couple times a week to run - then I was still getting in some good work-outs. Well, after watching The Biggest Loser last night - I have a new found desire for the gym.
If you haven't seen this week's The Biggest Loser yet - don't read anymore. **SPOILER ALERT**
After seeing the devastation that hit Courtney and Jen last night - I couldn't help but feel a connection to my own thoughts on working out. Just like Jen, I kept telling myself that "I've got this" I don't really need to go to the gym 3 or 4 times a week. I could "make-do" with running. Yeah, look where it got them. It didn't. Seeing their disasters on the scale last night made me realize that I need the gym. Running isn't enough. Sure, it is a great work-out...but it's not going to get me to see the results I really want. I need cardio AND strength training. I need more than a 30 minute jog, I need intense cardio...elliptical, bike, wave runner...they all do their own separate parts. So, no more skipping the gym for me.
OK, time to get myself ready for another fun filled day in a kindergarten classroom.
Good luck to all those that are participating in the Spring in 2 Action challenge!!
Till next time. ;)