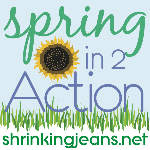 Today is my first day of Spring Break. Thanks to all the snow we had, it was cut down by two days - but it's OK...I still get a nice 5 day weekend to relax.

I will start off by saying that I did not win the Biggest Loser competition - not even close. Although I do have a funny story to share...

In my mind, I had two major competitors. The school coach and an ESL teacher. The coach is male and his starting weight was 188. He told me Tuesday that he'd lost 15lbs. The ESL teacher started off weighing 132lbs and lost 10lbs. I knew Tuesday that there was no way that I could beat the percentages. Yes, I had lost 10lbs - was hoping for better numbers - but when it came down to percentage of weight lost they had me beat by a landslide. I was NOT happy to weigh in and see the number 217lbs (which only gave me 8.5lbs lost for the whole competition). I hate the scale at school even more than I dislike my own (on certain days).

Anywho - at lunch time, everyone was congratulating the coach because he had the highest percentage of weight loss...and everyone assumed he had won. Then, at the end of the day, the official email was sent out with the winner. It appears there was a dark horse in the competition. One of the aides, who I would guess is in her late fifties/ early sixties and who weighs about 140lbs - probably less - was the winner. She had lost 11.1% of her weight!!! To make things even funnier....for the past several weeks, she's been walking around with a boot on her leg because she messed up her ankle pretty bad. I felt bad for the coach who had worked so hard - but it was so funny to see the person that won win the whole thing.

So, today, I weigh in for another challenge. If you read yesterday's post, you'll know that I was NOT a happy camper. I had worked really hard all weekend - and was seeing a 2lb gain on the scale. I was told Monday that it was possible I could see a short-term gain in my weight due to the large amount of working out I had been doing. Of course, I saw that gain on the day that I was trying to win $150.... but it's OK the gain is starting to go...

Which brings me to today's results:
Starting weight: 214.6lbs
Weight last week: 214lbs
Weight this week: 214.6lbs

Yep, I'm back to my starting weight. Not happy about that - but I am happy that it's not the 216lbs I saw on my scale yesterday morning.

This week has been very frustrating - and it's only Wednesday. I made a promise to my friend and challenge partner, Adah, that I would give it my all this week....and I did. I worked harder this past weekend than I have for the past two weeks!! It's so frustrating when the hard work isn't shown on the scale.

A motivational talk with a personal trainer Monday evening made me feel a little better - but it didn't help the disappointment I felt when I saw the numbers on the scale this week. He told me that it takes time for my body to adjust to such an increase in exercise. He told me I'd most likely see a gain this week - but in order to really make a difference, I had to keep up with the momentum change. Letting myself get discouraged will only increase the chance that my body won't ever show the progress that I'm making....and I will be stuck on this nasty plateau.

He used an explanation that has stuck with me...and I'm going to share it with you. How would you feel if you rode a roller coaster that contained no hills? Would it be fun to slowly start to move up that incline..heart pounding...waiting for the rush that waits on the other side...getting to the top - and then...nothing? The car just keeps going in a straight direction. He told me that would happen to my weight loss if I let the scale bother me. He told me that putting in the really hard work sometimes brings on small gains...that's the climbing. In order to see (and feel) that great drop on the other side - you have to keep working hard and not give up. Giving up or not keeping up with the momentum only leads to a plateau...and there's no fun in a plateau.

As if I needed more motivation and encouragement, I found more last night while watching Biggest Loser. Olivia shared a story about a plateau. She shared how getting down to 185 has always been as far as she's ever gotten. She gets there, things start to plateau, and then she gives up. For the past two weeks, Olivia hadn't seen the best of numbers when she got on the scale. She knew she had worked hard, she'd really pushed herself...and the measly losses that showed for it really got her down.

This week, she was determined to move past the wall that had always stopped her in the past. As Bob put it "she walked up to that wall, gave it the finger, and moved right past it". Olivia pushed straight through the wall this week with an amazing 5lb loss.

From all of the this, I have realized that I am at a plateau. For the past several weeks, I've been hovering around the same weight. On February, 23rd I finished the Power of One Challenge at 215lbs. I started the Spring in 2 Action Challenge at 214.6lbs. I have not been able to move past that number...been stuck here for the past month.

It is now my time to push through this wall.

It's time I walk up to it, flip it the finger, and then knock the sucker to the ground.

So, I have my fighter face on. I'm ready to start kicking the crap out of the wall. It's time to see me push past 214lbs....I'M SO READY!!

Till next time. ;)