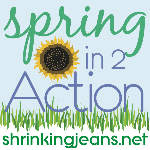 Today, a couple of exciting things are happening. First, there's a new challenge starting!!
The Sisterhood of the Shrinking Jeans
didn't waste anytime - and are giving us another opportunity to shed the pounds, challenge style.
This time around, I have a buddy, a team mate. We'll be working together, cyberly, to lose the weight and complete this challenge together.
My team mate's name is Adah. She's a grandma of 4, is an Aquarius (just like me), and has completed C25K! I'm so excited to be working with her. Please take a second to check out her blog at
HERE
.
As I've mentioned a few times this week, it's been a rough week. I haven't worked out hardly at all - and I let my stress and deadlines get in my way. So, no surprise, I didn't really see the number I expected on the scale this morning. Hopefully, next week, this will be behind me - and I'll be back to pulling some good numbers.
When I weighed in to register for the challenge last week, I weighed in at 215.6lbs. I was bummed, because I ended the challenge on Wednesday weighing in at 215lbs. I know that so many things can affect my weight after a couple of days - so I'm not dwelling on it. Let's get to this week's weigh-in
Challenge starting weight:
215.6lbs
Weight this week:
214.6lbs
Total Weight Loss
: 1lb
Challenge percentage of weight loss
: 0.5%
If I go by my weekly results, I've only really lost 0.4lbs. It's OK, I'm not going to let that number bring me down - I will work hard this week, and hopefully make up for it.
Since starting my weight loss efforts this year, I've lost 12.4lbs, which is a total percentage of weight loss of 5.5%. I don't want it to take 3 months to lose 12lbs anymore - now I'm upping my game. I know, I know, slow and steady wins the race....I don't mind being a tortoise, but I'd like to be a tortoise that doesn't act like they have 2 injured feet!!
Which brings me to my next exciting thing that's going to happen today - a work-out with a professional trainer. I haven't met my trainer, I know nothing about him. He came recommended to me by my training consultant "Bob". I trust Bob's judgement - and being that it's only one session, I'm not worried.
After today's session, I should have some pretty good ideas about how to maximize my work-outs to get the best results - and Bob will be with me helping me create work-out plans.
I've been in my Kindergarten placement for 2 days, now. I'm enjoying it. It's hard work - the kiddos keep me on my toes - but I'm sure I'm going to have lots of fun.
My senior project is due to be turned in tomorrow - and I'm almost finished. Will probably be a late night for me, tonight, but I will do what I gotta do to get it over with. I don't like having this deadline looming over my head - and will feel much better once it's past.
OK - time to get ready for work.
Till next time. ;)