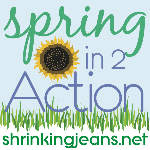 Really did not get the result this morning that I'd hoped for....I got what I expected - but I had hoped.
I'm upset today. It's not just about what the scale said. It's about knowing that I have a partner that's counting on me for this challenge. It's knowing that I managed my calories in and out carefully - had good deficits all week....but still end up with a number I don't like. It's knowing that it's probably stress and a lack of sleep that's causing my scale to be mean - and show me what happens when I do this to myself.
I made the comment a few hours ago, in my last post, that the scale doesn't reflect my progress...which is true...unless you're weighing in for a weight loss challenge.
So...here are the numbers for today:
Challenge Start Weight:
215.6lbs
Weight Last Week:
214.6lbs
Weight This Week:
215.2lbs
I gained 0.6lbs. :(
I'm never happy with a gain. No "well, you're probably gaining muscle" or "it's probably water weight" makes me feel any better....but they're probably both true.
This past week, I didn't work out as often as I planned -but I did work out. Last Wednesday, I worked out with a personal trainer...and he had me lifting weights like crazy. Saturday and Sunday I ran my little heart out. Monday I went to the gym and got in some solid weight work. Monday and Tuesday I drank close to 2 gallons of water. Could it be muscle and water weight? Sure, it could....but it doesn't take away the feeling.
My only hope is that my body needs to adjust a little this week...get used to the large amounts of water that I'm finally consuming, get used to the fact that I've upped my game in the weight training realm, and maybe...just maybe...I can pull a much better number next week.
I know that last night while watching the women weigh in for the Biggest Loser, I felt a little comfort. Seeing those girls work out as hard as they do - and pull the numbers that they did - gave me a little hope that I'm just having an off week and I'll be back on my game this time next week.
Despite having a staff meeting after work today and then having to go to my college campus to print out my senior project - I still plan on going to the gym for my work-out this evening. I have no reason not to. I don't have to worry about picking Jelly up for one more day...nothing to rush home for...just a chance to get some of my frustration out - and I plan on taking that chance.
Well, it's time to get ready for another day. Time to get over my little pity party - and start working on next week's kick @ss weigh-in.
GO TEAM GENERATION DETERMINATION!!
Till next time. ;)